EEI Electric Rate Advanced Course

Rates to Meet New Market Opportunities and Constraints

July 24- 27, 2011
University of Wisconsin
Madison's Fluno Center for Executive Education
Madison, WI




Agenda Overview




For details, see "Quick Links" above, right.

 

Overview of Electric Ratemaking Basics

Regulatory Accounting and Advanced Rate Design Concepts

Issues in Cost Allocation

Rate Design by Objective

Development of Marginal Costs

Using Customer Information to Develop Better Regulatory & Pricing Strategies

Designing Efficient Rates

Rates to Support Increased Energy Efficiency and Demand Response

Feed in Tariffs

Features of Efficient/Dynamic Pricing

Results from Past Rate Programs:  Who Responds, How Much and Going Forward

Dealing With Changes in Revenue Streams

Pricing as a Strategy for Helping Customers Adapt to Increasing Costs

Current Issues in Cost of Capital

Risk Management vs. Risk Compensation

Alternative Regulation (Altreg)

Quick Links

Registration Information
Accommodations/Location
CLE/CEU Information

 Sunday Agenda
Monday Agenda
Tuesday Agenda
Wednesday Agenda
 

 

Course Faculty

Larry Blank
Center for Public Utilities
New Mexico State University

Philip Hanser
The Brattle Group

Eric Ackerman
EEI

Steve Braithwait
Christensen Associates Energy Consulting

Jonathan Kubler
Energy Pricing Solutions

Mike Vilbert
The Brattle Group

Dick Wight
Energy  Solutions

Mark Lowry
Pacific Economics Group

John Caldwell
EEI
The course offers the following continuing education credits for students attending the pre-course workshop.
22   CLE Continuing Legal Education

2.2  CEU Continuing Education Units
For those students not attending the pre-course workshop the credits are as follows:
19   CLE Continuing Legal Education

1.9  CEU Continuing Education Units
The registration fee for this course is $1,900, and includes all instruction, course materials, breaks and lunch meals and reception on Sunday night.  Registration is limited to 35 attendees to assure optimum interaction between participants and the course leaders.
For course information please contact Cass Bielski at cbielski@eei.org.
Meeting Site:  The Fluno Center
A beautifully equipped training facility in the heart of the Madison-Wisconsin Campus, just blocks from the famous Terrace overlooking Lake Mendota.  Rooms are available at a flat rate of $144/night.
To make reservations via phone, please call: 877-77-FLUNO or direct at 608-441-7117
Give the agent the dates of your stay and your group code – EEI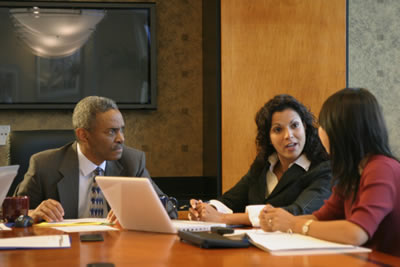 Teams will create a strategy for handling a rate problem.
Detailed Agenda
Overview of Electric Ratemaking Basics

Components of Revenue Requirements

Class Cost of Service

Basic Functionalization, Classification and Allocation

Basic Rate Design
Regulatory Accounting and Advanced Rate Design Concepts
Review of Revenue Requirements

Regulatory Accounting vs. "Regular" Accounting

The Income Statement and Balance Sheet

The Rate Base and its Components

Operating Expenses

Rate of Return and Capital Structure

Tax Treatment
Issues in Cost Allocation
Cost of Service

Types of Costs

Functionalization

Classification

Rate Class Cost Allocation

Cost Allocation and Revenue Requirements
Rate Design by Objective
Alternative Rate Options

Measuring Efficiency

Revenue Sufficiency

Rate Continuity

Modifiying a Large GSA
Development of Marginal Costs
In Traditional Markets and Restructured Markets

Steps in Developing Marginal Cost-Based Rates

Carrying Charges

Marginal Generation Costs

Marginal Transmission and Capacity

Marginal Distribution

Costing Periods

Attributing Costs to Costing Periods

Adjustments for Marginal Cost Losses

Reconciliation
Other Uses for Marginal Costs
Smart Grid

Distribution Utility of the Future
Using Customer Information to Develop Better Regulatory & Pricing Strategies
Overall kWh Usage Trends & Customer's Potential/Willingness to Change Usage

Differences in Customer's Energy Service/Price Expectations & Values

Why Utilities Will Be Expected & Required to Change Strategies to be more Customer & Energy Efficiency Focused

Applying Customer Information to Improve Regulatory & Pricing Strategies
Designing Efficient Rates
Features of Traditional Rates

Role of Smart Metering in Expanding Efficient

PricingRates to Support Increased Energy Efficiency and Demand Response

Fixed/Variable Rate Design

Business/Incentive Models

Issues Associated with Renewable Resources

Feed in Tariffs

Net Metering

DG Interconnection Procedures

Debt Imputation
Features of Efficient/Dynamic Pricing
Designing Efficient Rates-

Dynamic Pricing

Straight/Fixed Variable

Increasing Block Rates
Results from Past Rate Programs:  Who Responds, How Much and Going Foward
Dealing With Changes in Revenue Streams
DSM Cost Trackers

Decoupling Mechanisms
Pricing as a Strategy for Helping Customers Adapt to Increasing Costs
Managing Price Risk for Dynamic Pricing

Hedged Rate Options

Shifting Risk to Customers

Lessons Learned When Moving to More Efficient Rates

Barriers (Smart Meters, Administration, and Making Changes)

Missed Opportunities

Educating Customers
Current Issues in Cost of Capital
State of the Markets

Implications of Increased Variability

Traditional COE Methods and Their limitations

Sources of Risk, Old and New

Earned Returns vs. Allowed Returns

Rate Design and the Effect on the Cost-of-Capital

Responding to Arguments for Lower Allowed ROE
Risk Management vs. Risk Compensation
Alternative Regulation (Altreg)
Performance-Based Regulation ("PBR")

Rate caps

Revenue caps for revenue decoupling

Benchmark PBR

Formula Rates

Recent Developments and Key Precedents

Crafting an Altreg Strategy

Applications to Vertically Integrated Utilities and Distributors Forward Test Years

Altreg for Investment Surges
Two Utility Case Studies

Team Presentations on Alternative Strategies to Meet Contemporary Rate Issues
We will adjourn by 11:30 am